Freerice is fantastic!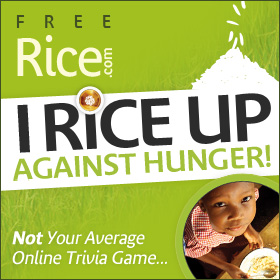 Did you know that you can help the hungry right now, for free?
Freerice is a great website that displays some ads when you answer trivia questions.
But there is a catch: the revenue from these ads goes to feeding malnourished people!
The program has raised over 210 billion rice grains for starving children.



---
I am NOT sponsored by, related to, or affiliated with Freerice or the World Food Programme at all, nor did I intend to make this look like an advertisement. I just feel that it is fun to improve the world without even realizing it. *Turn off your adblocker to view this image. Also, this font was made by Manfred Klein Fonteria. Thanks to Antimatter Dimensions for introducing me to this font.


Also, check out my other websites